Plantation Info
* You can NOW watch the Real Estate Show ONLINE!! Click here to watch the Sea Pines Video, Wexford Video, General Overview of Real Estate on Hilton Head and Financial information. You need high speed connection to watch the video.
Quicktime 6 required to view video clips.
Click here to download

General Overview of Hilton Head Real Estate | Real Estate Video | Financial Info | Off-Island Communities
Sea Pines | Wexford | Long Cove | Shipyard | Forest Beach | Palmetto Dunes / Shelter Cove | Port Royal | Palmetto Hall | Indigo Run | Hilton Head Plantation | Windmill Harbour | Spanish Wells | Hilton Head Off Plantation
---
Wexford
Welcome | Community | The Homes | The Course | The Harbour | The Courts | Clubhouse | Club Membership | Schedule of Fees | Wexford Video | Video Text | Real Estate Pricing | Map
Club Membership

Membership at Wexford Plantation is reserved exclusively for property owners and is included with ownership - there are no initiation fees, property transfer fees or awkward interviews. Owning property in Wexford entitles you to the use of all club amenities, and membership is limited to a maximum of 475 member families. There are no special "categories of membership" at Wexford; all club facilities and amenities are provided and maintained solely for the enjoyment of property owners, families and their invited guests.
The financial condition of Wexford Plantation is excellent, and soundly managed. A nine-member Board of Directors is elected by the membership to govern the affairs of the Plantation, and a professional management team and staff is employed to ensure that the assets and facilities are operated in a world-class and fiscally sound manner. Financial statements are available upon request.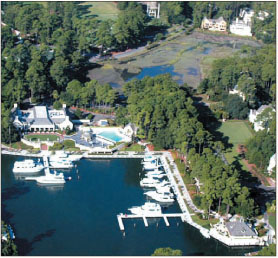 Ownership at Wexford has its Privileges:
Complete access to and use of the golf course, tennis courts, harbour, croquet lawn, clubhouse, pool, children's playground, bike and leisure paths, etc.
Casual and competitive sporting events, including a full slate of men's and ladies inter-club sports events, as well as club-sponsored tournaments and social events on a regular basis.
Opportunities for involvement in the community - through volunteer membership on committees, sports teams, special interest groups and/or service on Wexford's Board of Directors.
Due to limited size of the membership, and the varied interests of our members, Wexford's recreational amenities will remain un-crowded, even as build-out is complete.
A dedicated professional staff who provide outstanding service and strive to exceed the expectations of the membership every day.
The sense of security that comes with living in a private gated community that provides a manned gate 24 hours-a-day, plus roving security patrol around the clock. There are no public access or resort industry facilities in Wexford, further ensuring the privacy and security of all residents.
Each owner shares in the over $75 Million value of the amenities and common areas at no upfront cost other than the property price.
Immediate acceptance into a close-knit, friendly membership who truly enjoy spending time socializing and playing together.
Robert Young, Broker/Owner |
HHIForeclosure@aol.com
Direct Line: (843)384-SALE(7253) | Toll Free: 1-800-414- SALE(7253) | Fax: 1-888-387-6363
TOP 10 BEST BUYS
|
FEATURE LISTINGS
|
ALL FORECLOSURE MLS LISTINGS
|
PROPERTIES SOLD
GOLF/ISLAND INFO
|
MAPS/WEATHER
|
CONTACT US
|
FREE MAP
|
FORECLOSURE KIT
|
SHORT SALE KIT
HOME
|
SITEMAP
|
REALTOR.COM
|
PRIVACY STATEMENT