Plantation Info
* You can NOW watch the Real Estate Show ONLINE!! Click here to watch the Sea Pines Video, Wexford Video, General Overview of Real Estate on Hilton Head and Financial information. You need high speed connection to watch the video.
Quicktime 6 required to view video clips.
Click here to download

General Overview of Hilton Head Real Estate | Real Estate Video | Financial Info | Off-Island Communities
Sea Pines | Wexford | Long Cove | Shipyard | Forest Beach | Palmetto Dunes / Shelter Cove | Port Royal | Palmetto Hall | Indigo Run | Hilton Head Plantation | Windmill Harbour | Spanish Wells | Hilton Head Off Plantation
---
Wexford
Welcome | Community | The Homes | The Course | The Harbour | The Courts | Clubhouse | Club Membership | Schedule of Fees | Wexford Video | Video Text | Real Estate Pricing | Map
Clubhouse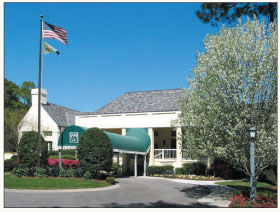 Constructed in the elegant British Colonial style, the same theme that permeates the design of the lovely homes found on the Plantation, the Wexford Clubhouse is the congenial heart of the community. From the hand-cut and polished pink Georgian marble in the entrance foyer to the Tiffany glass skylight that bathes the reception room in a warm, inviting glow, the clubhouse embodies the quality and casual elegance that distinguish Wexford Plantation.
A private lounge and restaurant serves members and their guests cool libations, gourmet meals and culinary delights in a handsomely appointed setting overlooking Wexford Harbour. The restaurant features an extensive wine list and a constantly changing a la carte menu featuring the freshest and most innovative cuisine in the Low Country. The club can accommodate private parties for groups of 2 to 250, as well as casual and fine dining for residents and guests. The golf Pro Shop and locker room facilities are also located in the clubhouse.
Highlights of Wexford Clubhouse :

Frequent social activities with at least 2-3 events per month, including weekly happy hour socials, cookouts, dinner dances, children's events, wine tastings, newcomer's parties, theme events, etc.
Private Function space is available to the membership for wedding receptions, anniversaries, birthdays, etc. There is no better venue on Hilton Head Island to host a special affair and create a lifetime of memories.
Facilities include outdoor swimming pool and bath house, poolside gazebo/grille, children's playground and basketball half-court, and lawn sports which feature bocce ball and one of the finest croquet lawns in the region.
The clubhouse serves as the central hub of Wexford's active social scene - whether it's lounging on the veranda watching the boats pass by, taking a refreshing dip in the pool, or engaging in a serious match of tournament croquet Ð there's no better place than the Wexford Clubhouse.
Robert Young, Broker/Owner |
HHIForeclosure@aol.com
Direct Line: (843)384-SALE(7253) | Toll Free: 1-800-414- SALE(7253) | Fax: 1-888-387-6363
TOP 10 BEST BUYS
|
FEATURE LISTINGS
|
ALL FORECLOSURE MLS LISTINGS
|
PROPERTIES SOLD
GOLF/ISLAND INFO
|
MAPS/WEATHER
|
CONTACT US
|
FREE MAP
|
FORECLOSURE KIT
|
SHORT SALE KIT
HOME
|
SITEMAP
|
REALTOR.COM
|
PRIVACY STATEMENT