Plantation Info
* You can NOW watch the Real Estate Show ONLINE!! Click here to watch the Sea Pines Video, Wexford Video, General Overview of Real Estate on Hilton Head and Financial information. You need high speed connection to watch the video.
Quicktime 6 required to view video clips.
Click here to download

General Overview of Hilton Head Real Estate | Real Estate Video | Financial Info | Off-Island Communities
Sea Pines | Wexford | Long Cove | Shipyard | Forest Beach | Palmetto Dunes / Shelter Cove | Port Royal | Palmetto Hall | Indigo Run | Hilton Head Plantation | Windmill Harbour | Spanish Wells | Hilton Head Off Plantation
---
Wexford
Welcome | Community | The Homes | The Course | The Harbour | The Courts | Clubhouse | Club Membership | Schedule of Fees | Wexford Video | Video Text | Real Estate Pricing | Map
The Harbour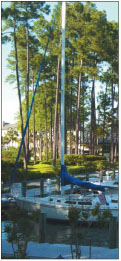 The developers of Wexford Plantation had a great appreciation for life on the sea, and this unique community was designed so that enjoyment of the water is not just an alternative; it ' s part and parcel of each day and night. There are no crowds here, no resort activities. Just a distinctive boating lifestyle that will always remain that way.
Wexford ' s 37.5-acre inland harbour, with direct access to Broad Creek and the Intracoastal Waterway, features deep canals that make a beautiful, watery ribbon through the community and afford owners the ultimate pleasure of docking boats in their own back yard. Our innovative lock system - one of only three such systems on the East Coast - controls the effects of tidal fluctuations, as well as providing access to our very private haven for pleasure boats which range from the smallest dinghy to vessels up to 75 feet in length with a 19 foot beam.
Wexford Harbour contains over 250 boat slips - 1 4 0 are located behind privately-owned homes; the remainder are situated behind the clubhouse for the exclusive use of property owners who desire membership in the Wexford Yacht Club. Due to Wexford ' s central location along the Atlantic Coast, boaters have easy access to ports from Maine to the Caribbean.
Highlights of Wexford Harbour :

24-hour-a-day lock-controlled access ensures security, and controls tidal fluctuation to maintain a constant water depth of 8 feet.
Full-time Harbourmaster and support staff on duty to service the needs of the boating community and to ensure that the harbour is maintained in excellent condition.
The Harbour Center provides boating supplies and serves as the hub of boating activity. Services offered include in-house boat washing and detailing, coordinating boat maintenance and repair work, and organization of day cruises and special events.
Harbour approach channel is dredged regularly Ð Wexford owns its own permitted spoils containment area for ease of sediment disposal.
Robert Young, Broker/Owner |
HHIForeclosure@aol.com
Direct Line: (843)384-SALE(7253) | Toll Free: 1-800-414- SALE(7253) | Fax: 1-888-387-6363
TOP 10 BEST BUYS
|
FEATURE LISTINGS
|
ALL FORECLOSURE MLS LISTINGS
|
PROPERTIES SOLD
GOLF/ISLAND INFO
|
MAPS/WEATHER
|
CONTACT US
|
FREE MAP
|
FORECLOSURE KIT
|
SHORT SALE KIT
HOME
|
SITEMAP
|
REALTOR.COM
|
PRIVACY STATEMENT